Editiones nr 7
Claes Gejrot (ed. and transl.), The Martiloge of Syon Abbey. The Texts Relevant to the History of the English Birgittines (2015). SEK 150:-. ISBN 978-91-88568-63-2.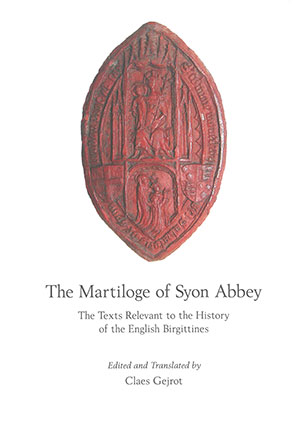 The present volume contains the first complete edition of the historical texts in the Syon Abbey Martiloge, an important source for all those interested in the fates of the English Birgittine house. Founded in 1415 by Henry V, Syon Abbey was an important factor in English political and cultural life in the Late Middle Ages. Just as other Birgittine monasteries around Europe, Syon housed both brothers and sisters in separate sections. Among the first Syon sisters we find a number of Swedish nuns who were transferred from Vadstena to England in order to facilitate the start of the new monastery. After the dissolution of the monasteries in the sixteenth century, the exiled community comtinued its activities abroad.
The Martiloge texts edited here were written by a series of Syon brothers an deal with various subjects, for instance the foundation of the monastary and the oaths taken by new members. A central part of the edition presents a Syon obituarium with obits of almost all the members of the monastery until the seventeenth century. Other parts list benefactors and burial places. In addition to the Latin text editions, the book offers a parallel translation into English and a number of commentaries.